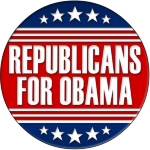 With Election Day just around the corner, shamed Republicans have been eager to jump John McCain's sinking ship to endorse Barack Obama. The movement began post-Palin and hit a peak when retired General
Colin Powell
offered his sound endorsement to the senator from Illinois last weekend. Even
Scotty McClellan
, former White House Press Secretary under Gee Dubya, is voting for the Big O.
Republicans are, therefore, desperate for social acceptance. In fact, the
National Black Republican Association
really wants you to believe that Rev. Martin Luther King, Jr. was a Republican. Beyond the pandering tone of this proclamation is a stink so fierce that it makes my eyebrows melt.
What am I to think? Oh wait, I know: Republicans are willing to affirm a posthumous endorsement from MLK for Obama. Unfortunately, it feels like Republicans have rewritten history on a bathroom stall, as they squeeze John McCain through their puckered butt-cheeks. "For a Good Time Call Sarah Palin" is on the wall, too.
I'm going to go vote today – want to come? I'll give you a ride.