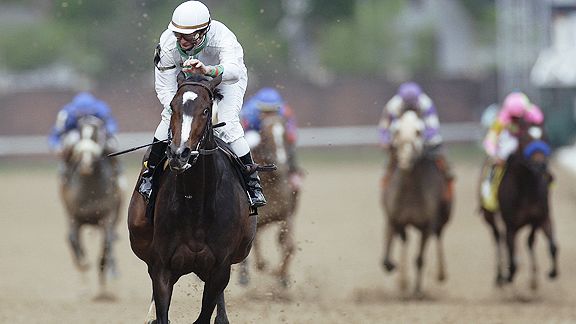 Ladies and gentlemen, it was a fine day to run like a girl at the Preakness Stakes on Saturday.
Rachel Alexandra
, a filly, made quick work for a day's pay and landed in first place.
-- -- --
Rachel Alexandra started in the #13 position this Preakness, a spot where no other horse has managed win, and it's been 85 years since a woman showed 'em
how it's done in Maryland
.
NBC sportscaster Bob Costas spoke with Rachel's jockey,
Calvin Borel
. "Have you ever had to ask her for all she's got?" Costas asked. "No sah. It'd be scary," said the bobble-eyed Cajun. "She's a freak."
Calvin Borel must like it freaky because he ditched riding
Mine That Bird
, the horse he rode to win in the 2009 Kentucky Derby, for Rachel Alexandra. His choice was flat-out unprecedented and oh-so
gossip worthy
in horse racing news this past week. More than one person has screwed up their face and made cuckoo noises when Calvin's name was mentioned, and every one of them wore Rachel's dirt at the finish. This filly has exclamation points in her blood! The boys chased Rachel's tail from one side of the track to the other, but Daddy Calvin would have none of it. His girl is going to get married in a white dress, and that is that.
Rachel's owner is a bazillionaire named
Jess Jackson
, of Kendall-Jackson wine fame. Mr. Jackson carries himself like a storybook bazillionaire racing fan, in that he actually gives a good goddamn about horses and people. This win could not happen to a nicer guy, so I have been told. I believe it. A fellow who would dare to run a filly with the big boys in a race like this must believe in something better than money and the ways of men.
Rachel Alexandra –2009 Preakness Stakes